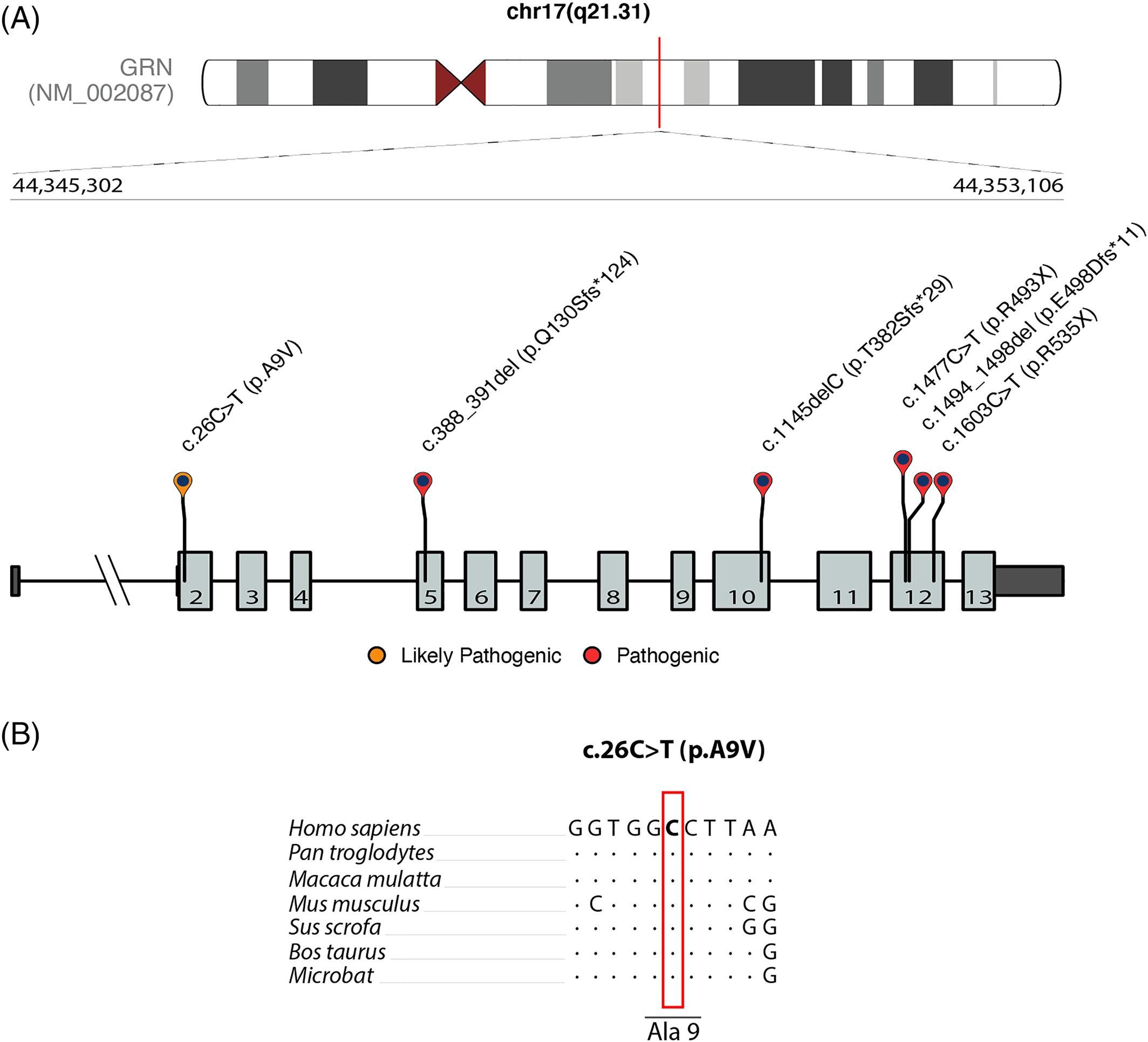 Background
Loss-of-function mutations in GRN are a cause of familial frontotemporal dementia, and common variants within the gene have been associated with an increased risk of developing Alzheimer's disease and Parkinson's disease. Although TDP-43-positive inclusions are characteristic of GRN-related neurodegeneration, Lewy body copathology has also been observed in many GRN mutation carriers.
Objective
The objective of this study was to assess a Lewy body dementia (LBD) case–control cohort for pathogenic variants in GRN and to test whether there is an enrichment of damaging mutations among patients with LBD.
Methods
We analyzed whole-genome sequencing data generated for 2591 European-ancestry LBD cases and 4032 neurologically healthy control subjects to identify disease-causing mutations in GRN.
Results
We identified six heterozygous exonic GRN mutations in seven study participants (cases: n = 6; control subjects: n = 1). Each variant was predicted to be pathogenic or likely pathogenic. We found significant enrichment of GRN loss-of-function mutations in patients with LBD compared with control subjects (Optimized Sequence Kernel Association Test P = 0.0162). Immunohistochemistry in three definite LBD cases demonstrated Lewy body pathology and TDP-43-positive neuronal inclusions.
Conclusions
Our findings suggest that deleterious GRN mutations are a rare cause of familial LBD. © 2022 International Parkinson Movement Disorder Society. This article has been contributed to by U.S. Government employees and their work is in the public domain in the USA.
Source: https://movementdisorders.onlinelibrary.wiley.com/doi/10.1002/mds.29144